LOST Hits #1 on the Billboard Charts!
It was so amazing to work on LOST with Afrojack and Oliver Rosa. Thank you to Afrojack and all the DJs, Radio PDs and fans who supported this record! Big thanks to Billboard, all the dope remixers, our writing collaborators and everyone who worked on this record, the music video, and the list goes on!
Special One-off Acoustic Performance!
LA peeps! Celebrate VASSY's birthday at Hotel Cafe on February 20th.
Get your tickets now! Limited space.
Exclusive Signed VASSY Merch Giveaway!
Enter for a chance to win a very special package from VASSY!
VASSY Live Performance @ Betches in NY
Save "LOST" on Spotify & WIN brand new Armada merch!
LISTEN TO BRAND NEW SINGLE "LOST"
A titanic team-up, brilliant composition and potential chart-breaker in one, "LOST" traverses the pop and dance music realms while remaining unique and progressive at its core. Catching fire through the warmth of VASSY's spirited vocals only to see its flames kindled by its exciting piano chord stabs and well-crafted builds, 'LOST' proves a song the whole world could lose itself in.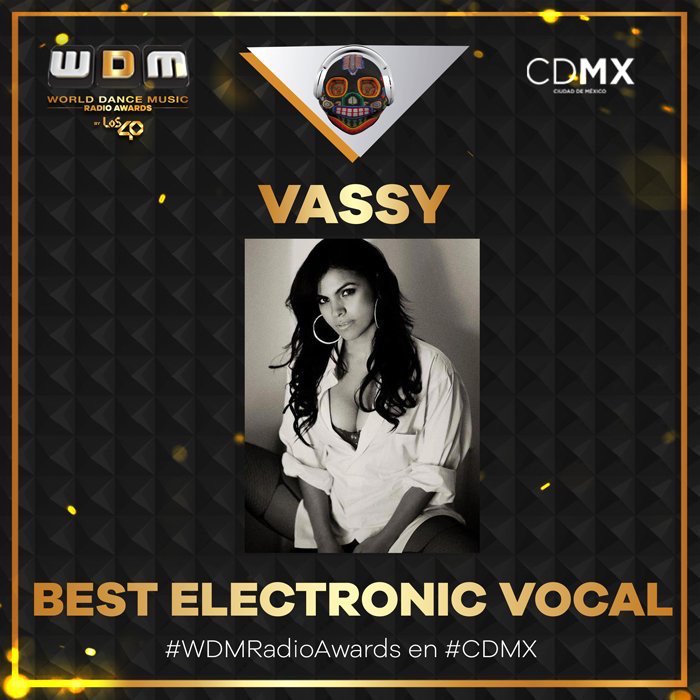 VASSY collected the 2017 award for Best Electronic Vocalist at the WDM Radio Awards in Mexico City.
"Big thank you to WDM Radio Awards for an incredible night, to all the fans who voted me Best Electronic Vocalist and everyone who came out to party with us!" - VASSY
NOTHING TO LOSE #1 ON BILLBOARD
"Nothing To Lose" hits No.1 on the Billboard Dance Club charts after topping the U.S. Dance Radio charts!
"Thank you Billboard, Tiesto, all the dope guys who remixed the record and all the DJs around the country who supported my Nothing To Lose" - VASSY
VASSY was Tiësto's surprise musical guest at "Electric Zoo: Wild Island" in New York this weekend.
"VASSY sang to a crowd of well over 20,000 and left Ezoo craving more as her magnificent voice echoed across Randall's Island" - Raver Rafting
Backstage at Tomorrowland in Belgium!
VASSY performed during Tiësto's Tomorrowland set to debut her new record "Nothing To Lose" (produced with Tiesto) as well as their smash hit "Secrets" with Kshmr.
"Secrets" winning the IDMA Award for Best Electro/Progressive House Track!
VASSY, Tiësto and Kshmr's hit collaboration "Secrets" won the 2016 IDMA Award for Best Electro/Progressive House Track for Secrets during the Miami Music Week.
VASSY joined Tiësto on stage at Ultra Music Festival in Miami and debuted her latest standalone single "Nothing To Lose" (produced with Tiësto) for the first time.
"BAD" with David Guetta & Kshmr goes twelve-times Platinum!
"Congrats to us all! Great day with Sultan Shepard & Aton Ben-Horin at Warner Music! It was so nice to be together with our team who helped "Bad" with David Guetta & Showtek reach 12x Platinum!" -VASSY